Caustelot Farms 2019
Summer Horse Camp Program
Camp weeks will consist of all ages and levels. The riders will be split up into different riding groups, according to their ability and discipline. With this new format we are going to lengthen the camper's day. Camp will run from 9am to 3pm, Monday thru Friday, and is open to riders 6 years and up. Camp will include the following:

Riding
Riding will consist of grooming and tacking their horse and then a lesson and work on improving their balance, influencing their horse, and improving their riding skills. Riders will progress at the rate they are comfortable with. Campers will be split up with riders that are comparable to their riding ability. Most of the riding is done in the arena, and then an occasional walk out side.
Crafts
Campers will have time each day to do a horse related craft to take home at the end of the week.
Feeding
Campers will help out with feeding, giving hay, feed, and water to the horses and other daily farm chores.
Educational
Campers will learn all different aspects of horses; breeds, colors, disciplines, health, hoof care, anatomy ect. Our educational part of camp we take the riders to the barn to get the full hands on experience.
Lunch
Please send your camper with a packed lunch. We do have water cooler and soda vending machine. So please keep in mind their hydration.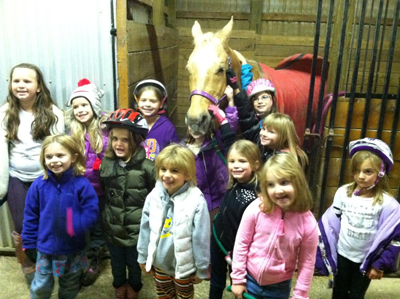 Reminders
Drop off not before 8:45
Pick up is promptly at 3.00.
New this year we will offer early and late drop off. There will be an extra fee for this. If this is something that you need, please make note of that on your registration form.
There will be a fun show on Friday the last day of camp. This will start at 2pm it is estimated to run about a hour and half. All friends and family are welcome to attend and see what the campers have learned and progressed.
Also if there are any campers that are interested in joining our iea team that is for 6 thru 12 graders please let Kathy know.

Call Kathy for more information: 724.554.5504

:: top of page ::